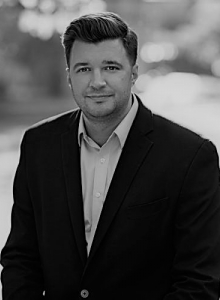 Board Secretary
Princeton University
James M. Van Wyck is assistant dean for professional development in the Graduate School at Princeton University. He serves as the primary liaison between the GradFUTURES initiative and humanities and social sciences departments. His portfolio also includes a range of graduate student professional development programs, strategic communications initiatives, and experiential learning opportunities for graduate students.
Prior to Princeton, he worked for Robert Weisbuch and Associates as a senior research fellow and associate. While a multi-year postdoctoral fellow at Fordham University, Van Wyck taught literature, public speaking, composition and upper-level electives. He holds a doctorate in English literature and languages/letters from Fordham University, and a bachelor's degree in English from William Paterson University.
Van Wyck volunteers on several nonprofit boards and in higher education settings and is a leader for the University at Buffalo's New York City Regional Alumni Network.
He has written for Inside Higher Ed, is the co-editor of The Reimagined Ph.D. Navigating 21st Century Humanities Education (Rutgers University Press, 2021), and has published popular and pedagogical articles, book chapters, book reviews, peer-reviewed scholarship and numerous articles for graduate students and advisers. A recognized and passionate advocate for higher education, the humanities, international and graduate students, and dubbed "one of the nation's most articulate graduate student advocates" by The ABD Survival Guide, Van Wyck is working on a monograph entitled "Leadership and the Imagination."