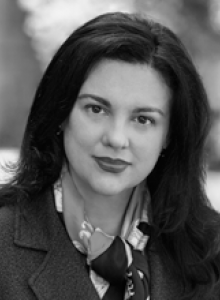 Board Chair
The Janssen Pharmaceutical Companies of Johnson & Johnson
Rita Ribeiro is a bi-lingual marketing leader with over 20 years of global and US healthcare experience in pharmaceutical, medical diagnostics, and services organizations. She has developed and implemented regionalized, integrated strategic plans to increase brand awareness and drive organizational growth across multiple therapeutic areas and service networks. She is fluent is English, Spanish and Portuguese and has worked across multiple cultures and countries throughout her dynamic healthcare career. 
 A recognized expert in digital and multichannel marketing, Rita leads branding and positioning initiatives, strategic industry alliances and global partnerships. She has developed promotional strategies for pharmaceutical and medical device products in the US, Canada, Germany, UK, Japan, India, Mexico, and Brazil. Living, studying and working abroad during her career, Rita is keenly attuned to diversity issues based on race, ethnicity, religious and gender identity, especially within healthcare. Her unwavering passion for equality, economic empowerment and access to health translates to multiple leadership roles in committees and allowed her to leverage key insights to influence organizational change. Her commercial success is based on applying cultural and regional insights to guide product positioning and messaging. She brings keen communication skills to help organizations find interconnecting points between business competencies, corporate equity, profitability and talent engagement to create a competitive advantage.
She currently serves on the global corporate board of the Healthcare Businesswomen's Association (HBA) and as a member of NJ Biotechnology Council's Inspiring Women in STEM committee. She is known for her strategic business vision and her ability to enhance corporate brand equity and talent retention through effective internal communications and engagement strategies. She has launched and chaired multiple employee resource groups for women's leadership, LGBT, men of color and working mothers. As a BRG executive sponsor and board chair, she personally coached and developed future leaders for each BRG creating a sustainable succession platform of regional chairs and executive sponsors.
An effective corporate social responsibility strategist, she leverages her industry platform and cross-functional network to implement Corporate Social Responsibility programs driving industry engagement and advocacy. Following her tenure as Strategic Development Committee Chair of the United Way of Greater Mercer County, she was elevated to Vice-President of the Board of Trustees. As board officer and incoming president, Rita drives the United Way's mission by integrating companies and donors with partnering agencies serving the community.  
Ms. Ribeiro holds an MBA in Marketing Management from Pace University's Lubin School of Business and a Certificate in Strategic Marketing from Columbia University in New York. She enjoys traveling and relaxing on the beach with friends and family.